5 Best Coastal Escapes
With summer in full swing we take a look at some of our favourite beachside suburbs, along with recommendations of where to take a dip!
From the tip of the Mornington Peninsula to the end of the Surf Coast, we have got you covered for some the best ocean views and relaxing sandy shores, and while we are at it we will show you some great examples of our projects which were built in these hot locations.
1. Point King Beach - Portsea
The small village of Portsea is the last retail precinct at the end of the Mornington Peninsula, and boasts a dive shop, small eatery and the famous Portsea Hotel (built in 1927) that overlooks the pier. The area is known for having some of the most expensive real estate in Australia with clifftop mansions that exude luxury and style on a very grand scale, and the local golf course has impressive views towards Port Phillip.
Must visit – Point King Beach
This beach is a hidden secret amongst local Portsea locals and has limited public access, which won't deter the die-hard beach-goers amongst us. Swimming is best at high tide, though you'll have to dodge the boats, plus there's a ripper bluff-top walking track (Millionaires Walk) that runs from Point King above.
For more information on the Portsea House click here to see project.
2. Diamond Bay - Sorrento
If surf fishing is your thing, then Diamond Bay is your spot. Named in commemoration of Queen Victoria's diamond jubilee, this beach has some pretty high-quality stretches of tan-worthy sand and surrounded by impressive sandstone cliffs, but you have to come prepared because when the tide's high, the disappearing beach is nigh (the water covers the beach and there's no sand to sit on).
Diamond Bay Road leads to a small car park behind the beach which is accessed from a walking track and steep staircase.
The area around Diamond Bay contains significant Aboriginal midden sites. Please stay to formed tracks to avoid disturbing these fragile, protected sites.
Cockle shells are among the most common shells found in middens. A 'midden' is an occupation site where Aboriginal people left the remains of their meals. At some sites substantial deposits grew over generations of use of the same area, and some middens are a few metres deep.
Sorrento is a beautiful and historic village that has retained much of its heritage in the form of the historic limestone buildings that line the main street. The village offers shopping that is stylish and sophisticated, with more than 60 retail outlets including boutiques, interior design stores, galleries and antique outlets. Naturally the cafes, restaurants, local produce stores and designer ice-cream are superb.
3. Sealers Cove, Refuge Cove and Little Waterloo Bay – Wilson's Promontory
Be awed by Victoria's largest coastal wilderness area in Wilsons Promontory National Park. Affectionately known as 'The Prom', it is one of the state's best loved parks – and with good reason. This 50,000 hectare reserve is threaded with a labyrinth of walking tracks that showcase all manner of magical realms sheltering abundant wildlife.
Must visit – Sealers & Refuge Cove
If you are a hiker (or boater) you can find pristine, uncrowded beaches on the eastern side of the Prom. Mountains plunge into the sea at Sealers Cove, while tiny Refuge Cove offers a terrific, safe little harbour for boats. At Little Waterloo Bay you'll discover a landscape akin to Tassie's Bay of Fires: granite boulders covered with orange lichen, which the heavy surf from Bass Strait pulverises into a fine white sand. You'll need to camp to enjoy the beaches; each has camping facilities.
Wilsons Promontory National Park has an early history of Aboriginal occupation with archaeological records dating back at least 6500 years. The Prom had (and still has) spiritual significance for different Aboriginal groups, who knew the area as Yiruk or Wamoon. The area was a valuable food source, particularly in summer.
Aboriginal people may have used the Prom, which was then part of a 'land bridge', to reach Tasmania during past Ice Ages. Today, local Aboriginal communities are active in establishing cultural and spiritual links with the park and in undertaking park management activities.
George Bass and Matthew Flinders were probably the first Europeans to see the Prom, on their 1798 voyage from Sydney, and Bass is thought to have named it after a London friend of Flinders. They recognised its commercial value of seals, whales and timber, as well as cattle grazing, which went on for nearly a hundred years.
The Prom's position means it is important for navigation in the turbulent waters of Bass Strait, and a lighthouse was built on South East Point in 1859.
Following campaigns by the Field Naturalists Club of Victoria, and lobbying by the Royal Society of Victoria, the Victorian government temporarily reserved most of the Promontory as a national park in 1898. Permanent reservation followed in 1908, although the Yanakie area north of the Darby River was not added until the 1960s.
A chalet for visitors was built at Darby River, but for many years a trip to the Prom was quite an adventure, involving a boat trip across Corner Inlet and a horse ride, or a car drive along the beach, with the risk of being swamped by waves. The main entrance road was not completed until the 1930s.
During World War II the Prom was used for commando training and was closed to the public. Army buildings at Tidal River formed the nucleus of a post-war holiday village that gradually developed as more people came to the Prom.
The entrance road was sealed in 1970-71 with visitor numbers increasing steadily.
To find out more about our Fish Creek House click here
4. Bushrangers Bay - Flinders
Flinders is one of the Mornington Peninsula's most charming villages, with an historic streetscape shaded by broad verandahs, excellent eateries, gourmet produce stores, boutique shops, galleries, antique outlets, a famous golf course and coastal walks. This pretty seaside village was first settled in 1854, and is named after the explorer Captain Matthew Flinders.
Must Visit – Bushrangers Bay & Cape Schanck
On the southern side of West Head, the ocean breaks over the basalt rocks of Mushroom Reef Marine Sanctuary which is home to one of Victoria's best intertidal and subtidal rock platform reefs, popular for beachcombing, diving and snorkelling. It borders the Mornington Peninsula National Park that offers a rugged coastline of cliffs and ocean beaches from Flinders to Cape Schanck along its southern frontage onto Bass Strait. To the west of Flinders, just off Boneo Road, is The Blowhole which includes walking tracks along the rocky coastline and over huge basalt boulders.
To find out more about the Flinders House click here
5. Point Addis - Anglesea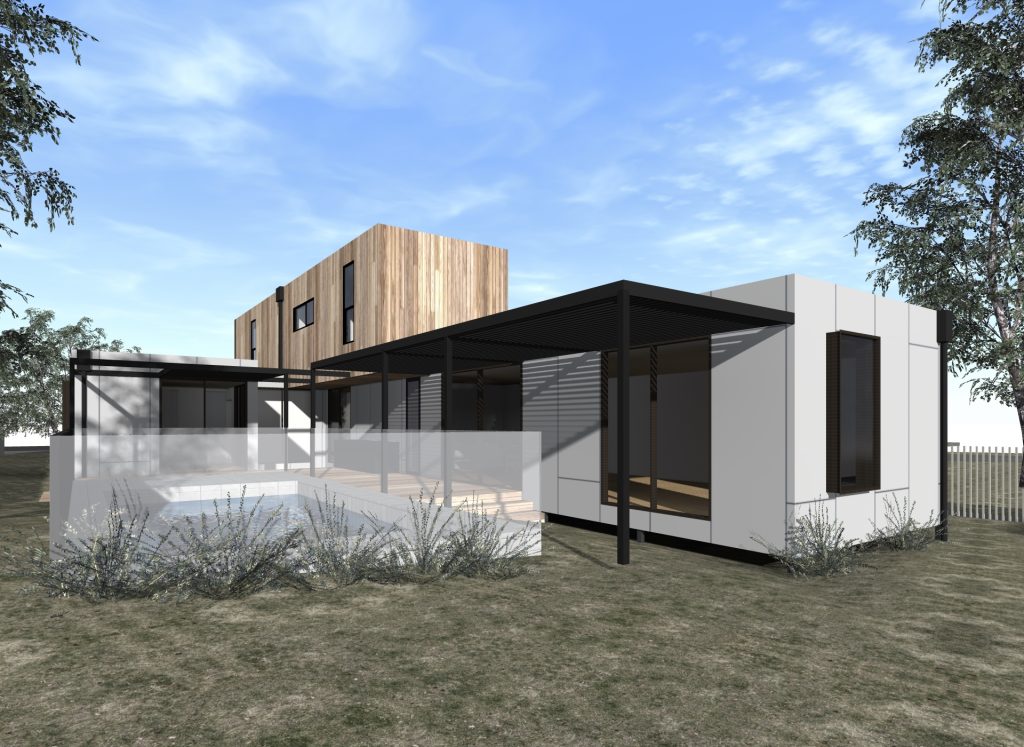 To find out more about the Anglesea House click here
Where the river meets the ocean, the seaside town of Anglesea boasts towering coastal cliffs and sprawling white beaches.
Beach, bush and kangaroos are the ingredients used to make Anglesea a favourite holiday spot. Located 10 minutes west of Torquay on the Great Ocean Road, Anglesea is perfect for a natural adventure.
There is more to Anglesea than its fresh clean air and glorious water views, recognised as a haven for its abundant flora, particularly rare orchids and native flowers during spring.
Just around from Bells Beach's famous point breaks is Point Addis, a sandy crescent rimmed by a dramatic sweep of ochre sandstone and limestone cliffs. The lookout next to the road offers panoramic views, before you walk through a section of national park down to the beach. If it's low tide, walk along the rockpool ledges to Southside and Bells Beach, or just stroll up the northern end to the stretch of 'clothing optional' sand, if that's your thing. There's also an Aboriginal interpretive trail, the Koori Cultural Walk, with incredible views from the cliffs.
Image credit: Point Addis | by kirkjrichards
Image credit: Anglesea House | by Archiblox
For more information on the Anglesea House click here!
We love sharing all the new and exciting things happening at Archiblox, so make sure you're following us on Instagram, Facebook and
Twitter, or signed up to our monthly newsletter, to ensure you don't miss a thing.