8 Outdoor Features to Add Value & Comfort to Your Home this Summer
Summer holidays are fast approaching, but why pack up and leave? let's stay home. Whether your entertaining the extended family for Christmas, hosting friends for long lazy barbecues or just after some much needed rest and relaxation, we have put together a great list of outdoor features to help you add value to your home & create a space that is more liveable, comfortable & practical for this social time of year.
Interested in more clever home solutions? Check out our
1. Stay Cool with a Pool
A sure-fire way to impress guests, the kids and add an element of luxury to your backyard is to put in a pool. With the heat of our Australian climate and our love of the outdoors, putting in a swimming pool can provide a great source of entertainment & pleasure for years to come.
The biggest trend for pools in 2019 is to include built-in bench seating/day beds, diving boards, resort styling or natural elements to make your pool look like it's part of the landscape. Plunge pools are also very popular, the pre-cast concrete pools are more cost effective than custom designs and are great for homes on smaller blocks. For resale a well-maintained pool can add significant value to your home but think carefully about the upkeep before taking the plunge.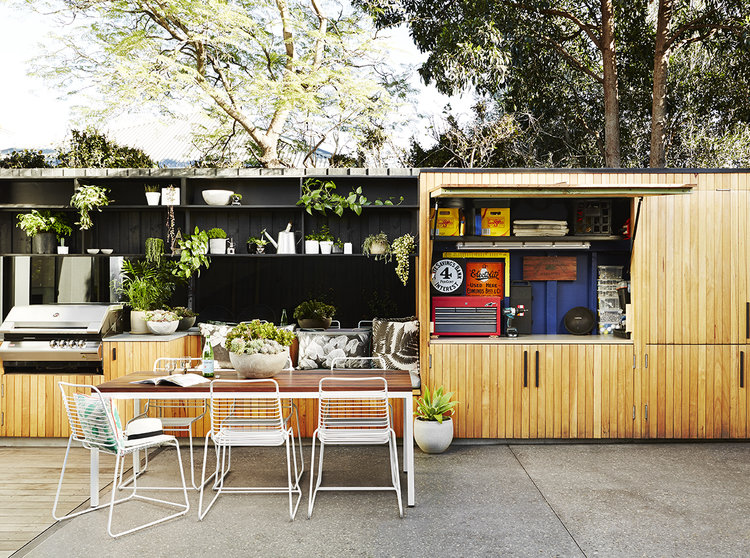 2. Entertain with an Outdoor Kitchen
Alfresco dining areas are a great warm weather treat, offering a lovely alternative dining experience. Not only do these areas increase the liveable area to your home during temperate months of the year, providing more space for socialisation but they bring a mostly indoor activity outside, where there is excellent ventilation, ambiance, functionality and connection to nature.
To make the most of this space consider a well equipped outdoor kitchen with all the amenities, such as storage, sink, fridge, cooktop or even a wood fired pizza oven if space permits. For a simplified version include a built in barbecue, prep space and seating. This permanent pop-up party space is sure to provide everlasting convenience and value to your home.
3. Deck it Out
Outdoor entertaining all begins with a deck. The warmth of the natural timber combined with the value adding space and comfort provides ample room for you to entertain year round – especially on those balmy summer evenings. A deck raises the bar for your external spaces, not only do they benefit the functionality of your yard but they are a smart investment by opening up internal spaces to create secondary living zones & increased floor area. Decks are best incorporated as an extension from your home, if this is not possible try a paved area instead.
When considering a deck ensure you choose sustainably certified or recycled wood and comply with any planning overlays your council might have especially when it comes to bushfire prone areas.
Image: Lucky House | By Kuzman Architecture
4. Throw Some Shade with a Pergola
Want to lift your home to another dimension? A pergola is a elegant structural feature that will look amazing amongst your backyard spaces. They can provide protection from the sometimes harsh Australian sun & weather conditions, screen unsightly views and create a habitat for plants to grow on or under. Pair it with an outdoor deck and instantly you have a comfortable platform for easy alfresco living.
Image: Santa Lucia House | By Sagan Piechota
5. Enjoy the Serenity Around a Fire Pit
Nothing beats the crackle of a fire while toasting marsh-mellows and telling long yarns into the night. Why not capture that iconic camping experience in your very own backyard? These budget friendly spaces are perfect for entertaining, cooking and adding ambiance in shoulder seasons right through into the wintertime.
Depending on your finances you can choose between a wood burning fireplace/pit – cheaper and generate more heat or a more commercial gas powered heater – just remember for these systems you will need a gas connection close by.
For extra value add seating and appropriate landscaping to enhance mood, functionality and ensure your fireplace is a focal point of the yard.  For safety purposes clear any burning hazards such as over hanging branches or bushes.
Image: Emma & Tom Lane Byron Bay House | By Alicia Taylor
6. Relax in an Outdoor Shower or Bath
Maybe you live by the beach or maybe you live miles from it. An outdoor shower or bath still make a great feature to your home regardless. These washing spaces provide excellent cleaning zones for after beach, pool, exercising or garden activities, especially when your wanting to avoid the little ones or our furry friends from mucking up the house with sand, sweat and dirt. They also provide a secondary bathroom space (depending on the design) when your house is overcrowded with guests or simply offer a refreshing way to cool down & relax in the summer heat. These outdoor spaces are sure to put a smile on your face from the ease & convenience to the resort-like experience.
7. Make Your House Feel at Home with Landscaping
Instantly improve street cred and your homes aesthetic with a landscaped garden. A well-designed garden can warm and cool your home, add significant value, be a source of food and encourage wildlife habitats. Consider your location – what plants re native to the area, what is the soil type and what kind sunlight do you receive throughout the day? Work with these natural systems operating in your neighbourhood and work from there. Hire a landscaper to help you achieve the best results or take a trip to your local nursery and ask for advice on the best plants for your conditions.
If you have a small budget or are time poor – invest in a simple, low maintenance garden. Use plants that grow easily, require minimal upkeep and are drought tolerant. You may already have an existing garden, therefore making minor upgrades and maintaining what is already there will make a big impact – try pruning overgrown shrubs, re-turfing patchy lawn or weeding garden beds as a good starting point.
8. Light It Up
Enjoy your outdoor spaces well into the night with the aid of lights. There are many benefits to external lighting it increases safety, ambiance, functionality and curb appeal. It makes a world of difference to the look and feel of these exterior spaces. Entrances and pathways are the first place you should look at when thinking about including a lighting element. Illuminating these areas make great first impressions and improve safety. Trees, pools, the house itself and any architectural features are other focal points that benefit from a little highlighting.
Are you looking to create your own outdoor experiences for your home?
Get inspired by our Custom Modular Homes < < Click here.
We love sharing all the new and exciting things happening at Archiblox, so make sure you're following us on Instagram, Facebook and Twitter, or signed up to our monthly newsletter, to ensure you don't miss a thing.