Your 2019 Colour Guide
Image: Colours | By Dulux
Dulux and Pantone have released this years colour forecast.
We take a look at these palettes and show you some Archiblox examples & inspiration of where these colours have
been a success.
Repair
It's time to heal our rifts with nature.
Repair helps us revive our relationship with nature and embrace a more holistic and 'circular' way of living.
Our comfortable, carefree existence begins to fade into the past, as we adopt a wabi-sabi sensibility that appreciates
the beauty in faults and flaws.
As we heal our rifts with nature, we fill our spaces with humble and authentic tones, inviting in an interplay of beautiful imperfections. The worn and weathered is reborn alongside the new and modern. Optimism and peace is restored.
Image: Cinnamon Sand | By Dulux
Image: Plasticine | By Dulux
Mix your well-loved vintage pieces with new, modern furniture items to create a cosy, character-filled space. It's the flea market finds and hand-me-down furniture that help to build stories and memories.
Image: China White | By Dulux
Image: Sea Creature | By Dulux
Wholeself
Stop, breathe and simply be in the moment.
Do you feel like your brain is in constant overdrive? It's time to switch off the smartphone and clear out the mental clutter. Wholeself helps us to create a calm, distraction-free zone where we can dial back the volume and reconnect with ourselves.
Our home is our temple, a place where we can ignite the senses through gentle, nurturing tones. We remove all the fussy details to channel a sense of quiet minimalism. Rounded curves and soft, plush surfaces are enriched by subtle layerings of texture. Life has never felt so good.
Image: New Life | By Dulux
Image: Shetland Lace | By Dulux
Image: New Life Bedroom | By Dulux
A soothing tonal palette helps to create a room where you can switch off both visually and mentally. Beauty is found in subtle textural details and quiet colour accents.
Evoke a feeling of relaxation and wellness in your guest room or retreat by using a soft green such as Dulux New Life. For a truly chilled space, choose tonal hues for your other elements.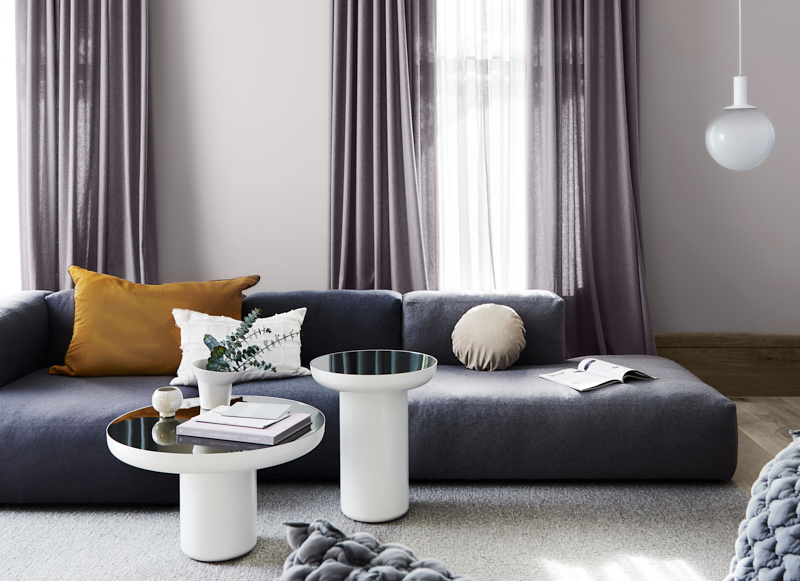 Image: Silver Thaw | By Dulux
Image: Modest Mouse | By Dulux
Image: Silver Thaw Loungeroom | By Dulux
Transform your bathroom into a private sanctuary by using a moody Dulux Modest Mauve. This subtle, greyed-off mauve is a perfect complement to cool colours of natural stone and granite.
Our search for spirituality and wellness manifests through soothing spaces styled around simple forms and tactile surfaces. Creamy colours such as Ecru create warmth in minimalist interiors.
Legacy
Legacy values the timeless and elegant over the new and disposable.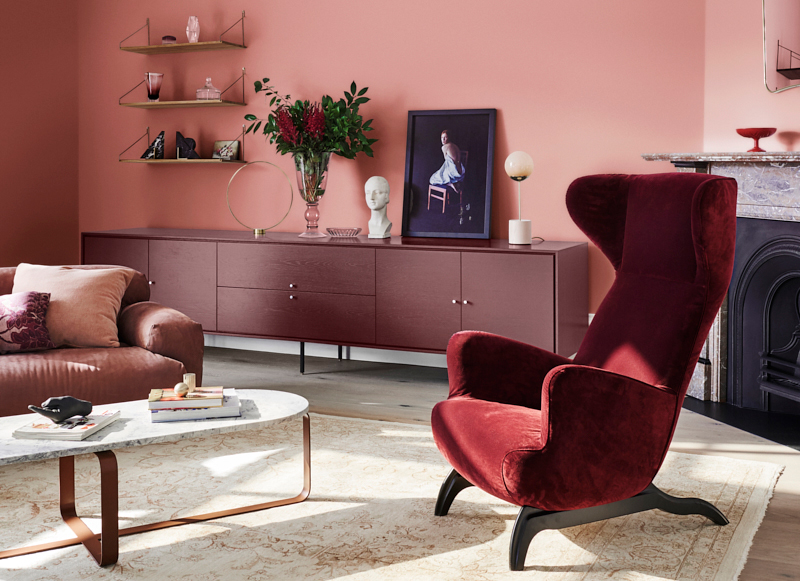 Saturated hues are tempered by paler shades such as Legendary Lilac and Pink Linen Half, creating a perfect backdrop to an intermingling of old-world charm and new-world chic.
Rich, bold colour can be a powerful decorating tool. For a tonally immersive experience, call on variations within the same colour family.
You may fall in love with a fabric, an artwork or the embroidery on your favourite cushion; try sourcing your wall colour from these most-loved elements.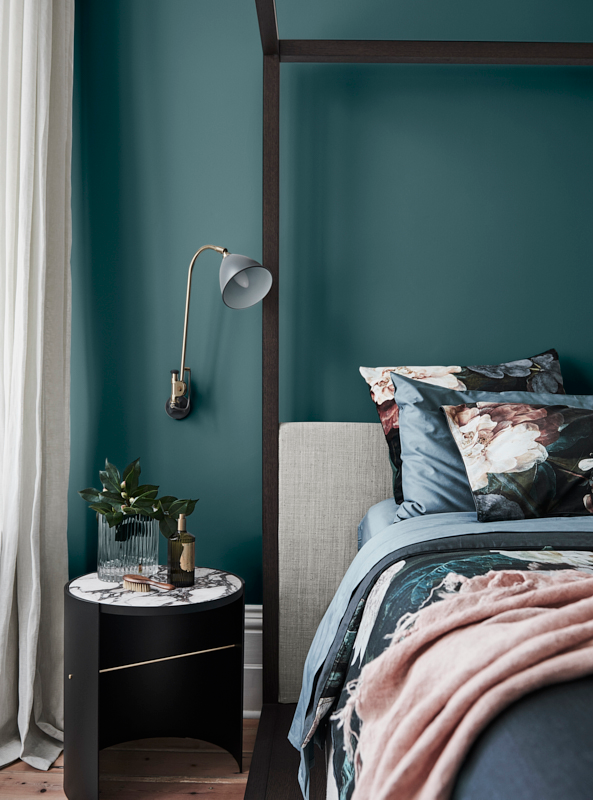 Image: Deep Sea | By Dulux
Identity
Identity empowers you to show your true colours
It's time to break out of the mould and show us the real you. Identity speaks to the radical, non-conformist in us all. It empowers us to live on the wild side and express our true inner creative. Who cares what anyone else thinks?
Rules and conventions are thrown out the window, freeing us up to experiment with a bold and individualistic vision. Filled with fun and spirited energy, bursting with the spontaneity of youth and wild optimism, colour becomes the adrenaline for our senses.
Image: Golden Sand | By Dulux
Image: Red Clown | By Dulux
Image: Golden Sand Dining-room | By Dulux
You don't need colour on every wall to make a daring and adventurous statement. Experiment with the smaller architectural details, applying a colour that will transform them into a special feature.
A mish-mash of modern multi-cultural influences call up the colourful, futuristic vibes of sci-fi fantasy and off-the-wall selfie culture. They empower us to be brave and confident and to flaunt the fabulous, colourful quirks and flaws that make us who we are.
Anything goes with Identity, so choose what you love, go with what makes you smile and create a bold, optimistic statement in your home. Your bedroom is a perfect place to start experimenting with colour and defining your style.
Bold hues can be used to call out simple, unassuming architectural details transforming them into features within your home. This gives you the option to feature strong statement colours in small but impactful doses.
Pantones Predication
PANTONE 16-1546 Living Coral
An animating and life-affirming coral hue with a golden undertone that energizes and enlivens with a softer edge. Sociable and spirited, the engaging nature of Living Coral welcomes and encourages lighthearted activity. Symbolizing our innate need for optimism and joyful pursuits, Living Coral embodies our desire for playful expression.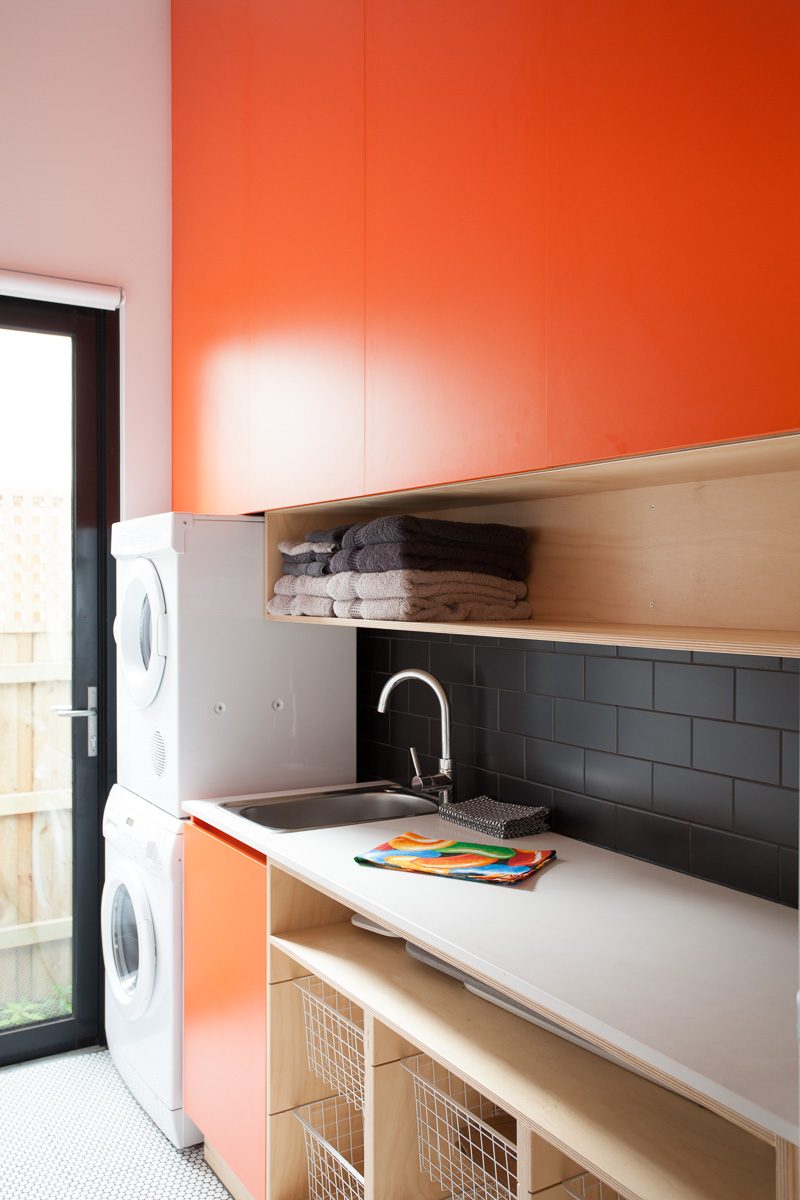 We love sharing all the new and exciting things happening at Archiblox, so make sure you're following us on Instagram, Facebook and
Twitter, or signed up to our monthly newsletter, to ensure you don't miss a thing.