13 Multi-Billion Dollar Urban Renewal Projects.
Article originally published by The Urban Developer.
In cities around the globe, urban renewal is breathing new life into often neglected parts of our cities, transforming under-utilised and disused areas into spaces that meet changing population and cultural requirements.
With 70 per cent of the world's population predicted to live in urban areas by 2050, the number of major scale multi-billion dollar projects are on the rise.
And to celebrate, The Urban Developer has found some of the most significant developments under construction around the globe.
Paris France, Europa City
EuropaCity is a planned EU$3.1 billion development outside Paris.
EuropaCity is a EU3.1 billion (AU$4.89 billion) cultural mixed-use French development 30 minutes outside of Paris. Located in the agricultural area of Triangle de Gonesse, between Paris and Charles de Gaulle Airport, the 80-hectare development is scheduled to open in 2024.
Designed by Danish architects Bjarke Ingels Group (the firm behind Google's California headquarters), the development aims to combine the efficiency of urbanisation with the sustainability and liveability of countryside living, connecting urban Paris with the rural area.
EuropaCity will be entirely pedestrianised, with travel done by foot, bikes or via new modes of transportation. It will be home to new housing, shops and restaurants, an artificial ski slope, golf system and a new transit system.
A joint project by the French real estate company Immochan and the Chinese investment company Dalian Wanda, Europa City has also become the largest private investment project in France since the establishment of Disneyland Paris in 1992.
As with many major development projects, EuropaCity Paris has met with criticism, including accusations it promotes consumerism and won't be able to reach the number of new jobs it anticipates.
Shanghai China, Todtown
Todtown is a $US1.5 billion ($1.88 billion) dollar project in Shanghai's Minhang District.
Starting construction in 2014 and set to be complete by 2020, Todtown's master plan is created by Chicago-based architectural firm Goettsch Partners and Hong Kong-based studio Lead 8. The project has been designed to incorporate the commercial and environmental space, integrating greenery with a mix of green roofs and mini parks.
The mixed-use development will supply 1000 apartment units, a 121,000 square metre shopping mall, office space and a 5,000 square metre cultural centre.
Melbourne, Australia, Fishermans Bend
Fishermans Bend's $4.5 billion urban renewal precinct covers 480 hectares of former industrial land.
In an attempt to connect the CBD with the bay area, located less than seven kilometres south of Melbourne's CBD, this urban regeneration project promises 80,000 jobs, accommodating 80,000 residents by 2050.
The project claims the location and proximity to Melbourne's CBD is attractive to young families, with the addition of new primary schools and a secondary school to the area.
The key focus on the renewal is sustainability with 121-hectares of the area dedicated to open space. The area is also promoting sustainability through plans to have a zero carbon footprint, recycle 70 per cent of household waste and limits each household to 100 litres of potable water per day.
Currently the state government has put on hold 26 of the high-rise projects proposed as many of these buildings would violate the cities building codes.
Melbourne Docklands, Australia
Continuously shaking off the "wasteland" tag, Melbourne's Docklands boasts one of Australia's largest urban renewal projects currently under construction.
Managed by Places Victoria, the Melbourne Docklands has become one of the city's most important job centres, creating 58,000 jobs for 13,000 residents.
By transforming once industrial wasteland into a hub for leisure, dining, retailing and both residential and commercial real estate, the project that started in 1997 covers 190 hectares and is aimed to be completed in 2025.
Sydney Australia, Barangaroo
Covering 22-hectares along Sydney's harbour, the $8 billion Barangaroo waterfront precinct has a major focus on sustainability and the creation of green space.
The mixed-use area targets a goal of providing 23,000 jobs, creating 3500 residents a home as well as contribute two billion dollars a year to the New South Wales economy.
Expectations for this precinct is to become the greenest and most advanced financial district in Australia, with an estimated 18 million annual visits.
Developers have committed to leave and enhance more than half of Barangaroo as accessible public space. Spanning across three development areas, Barangaroo South a 7.5-hectare site developed by Lendlease, is the first of the three to be established.
Turning a concrete container terminal into a world-class waterfront precinct, Lendlease is aims to open the public space in 2021.
Cairo Egypt, New Cairo Capital
The Egyptian government has started one of the world's largest urban renewal projects: a new and still un-named city. The city's aim is to provide a solution to overcrowding, pollution and rising house prices.
Forty-five kilometres east of Cairo in the Egyptian desert, the $60 billion project will provide housing for up to five million people, with malls, government buildings, a theme park, energy farms and a newly established airport, across a 270 square-mile-site.
Backed with many investors including a $20 billion contribution from Chinese developers, the New Cairo Capital will include mosques and churches, a 5000 seat conference centre, nearly 2000 schools and colleges, 600 medical facilities and what some are calling the world's largest park.
The project cost, an estimated $US45 billion dollars ($57.9 billion), aims to be complete by 2022.
Despite attracting large amounts of international investments, this figure has raised concerns with local and international urban planners over potential the project may turn into a ghost town given the country's current economic climate.
Istanbul Turkey, New City Istanbul
New City Istanbul will reimagine itself as the 8,000-year-old river city.
The 8.7 million square metre-wide former military zone will be used as a reserved housing zone. A timeline and project costs have not been disclosed but the airport is estimated to be open by 2018 and has $US6 billion ($7.7 billion) in funding.
Plans were approved in 2016 to build 50,000 residences across seven towers.
The proportion of Turkish citizens living in cities has increased from about half the population 30 years ago to 75 per cent today.
Between 2000 and 2015 its major urban areas absorbed 15 million new residents.
New York City USA, The World Trade Center Site
Ever since the events of 9/11, the New York City council have been rebuilding the 16-acre site where the Twin Towers once stood.
The area will include a total of 14 buildings which includes the Freedom Tower (the tallest skyscraper in New York), a new transit hub, the 9/11 memorial and museum, a performing arts centre, a mall and a park.
Different architects and developers have been involved with each building to encompass history and current urban designs.
Construction will be complete by 2020.
CityLife Milan, Italy
When complete, CityLife will be the largest new public space created in design capital Milan for more than 120 years.
The EU2 billion ($3.2 billion) residential and business district project is under construction by architects Zaha Hadid, Daniel Libeskind and Arata Isozaki.
Developed by Italian insurance company Generali, the project is a flagship example for sustainability and smart mobility that will be completed before the end of this year.
CityLife Milan is the largest car-free area in Milan and all of Europe, providing 168,000 square metres of landscaped parkland dedicated to pedestrians and bicycles promoting the use of environmentally friendly modes of transport.
Featuring the tallest skyscraper in Italy at 202 metres, CityLife Milan provides space for both office and retail buildings with commercial fronts on the piazza.
Elephant and Castle, London, UK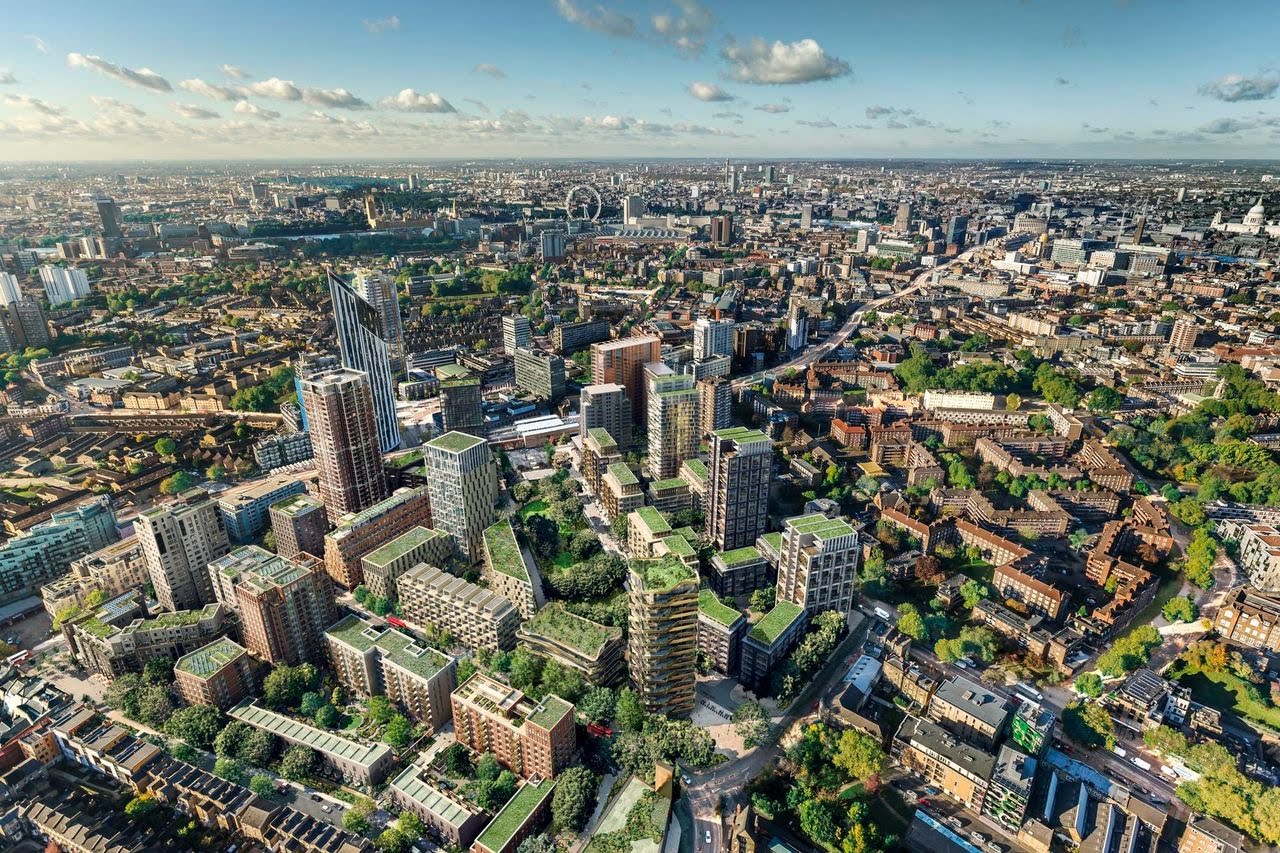 Elephant and Castle is hoping to help resolve London's looming housing crisis with its $5.3 billion project.
Another international project of Australian developer Lendlease, the group is responsible for one of London's biggest regeneration projects to date.
By exemplifying how councils can work with the private sector to make up for budget cuts and still creating affordable housing, the project is often used as a prime example of social impact investing and how it can influence future cities facing major housing issue.
By 2025, 3000 new homes will be created within Elephant and Castle, providing a mix of low-rise apartment blocks, a luxury tower block and townhouses as well as 30,000 square metres of retail space, a central park and a university campus.
Only 25 per cent of the newly-created homes meet the category of affordable housing, which created a recent uproar.
Nonetheless, the project is steadily going ahead with planned completion by 2025.
To view full original article by The Urban Developer, click here.