Sunday Life Features Balaclava House.
A recent edition of The Age's Sunday Life Magazine featured our Balaclava House, home to Archiblox owners Bill and Christine McCorkell.
Story: Heather Nette King.

Photographer: Armelle Habib

Copyright: Fairfax Media
Thinking big has helped a Melbourne family create an easy living home.
The Home
A late-Victorian home in inner Melbourne's Balaclava. A two-storey prefabricated extension has created a contemporary four-bedroom house, with three living spaces.
The home enjoys a seamless flow from indoors to out. The prefabricated modular extension and internal renovation took just five months.
Who lives here.
Bill and Christine McCorkell, owners of architectural and building practice, Archiblox, with their daughter Harriet, 11, and son Sam, 9.
The family lounge adjoins the kitchen and meals area and will eventually be fitted with a fireplace. The rug is from Fenton & Fenton.
What we did.
"We replaced an older rear addition with a two-storey building designed to capture the northern light in our main living spaces," says Bill. "We also created a native garden designed by Daniel Tyrrell and Phillip Withers."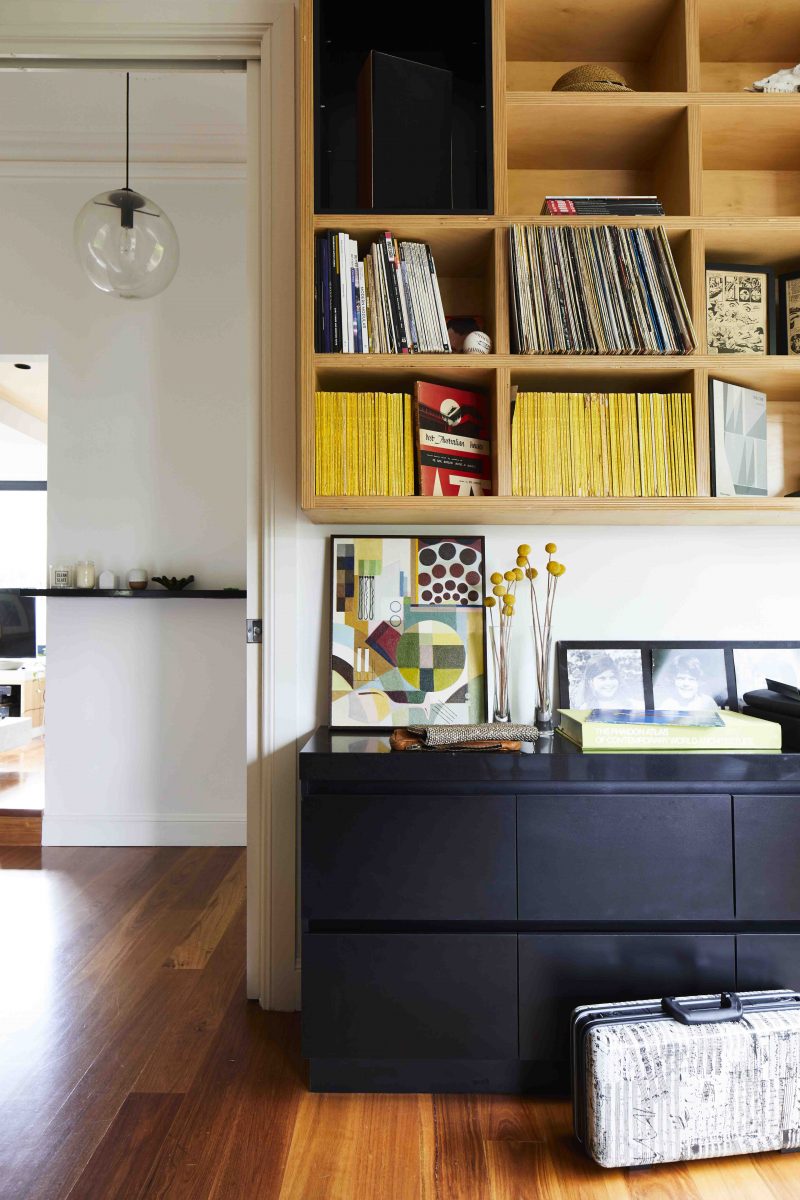 Great storage is a feature throughout. Here, the combined office and music room is lined with shelving and drawers. The vibrant abstract artwork is by Christine's childhood friend, Eliza Burke.
Our favourite room.
"The kitchen," says Christine. "Although there are plenty of places to escape to, we all seem to connect around the island bench, which acts as a workstation for cooking, homework and laptops."
Harriet in the kitchen, where a warm, panelled plywood ceiling softens theindustrial look of the polished concrete floor and honed brick wall.
The 'hood.
"Balaclava is a great community," says Christine. "It's an easy stroll to Blencowes Milk Bar for coffee, or to Uncle, Ilona Staller or Radio Mexico for dinner."
In the master bedroom, a new wall was built in Tasmanian oak, in keeping with the aesthetic of the home's addition. The black pendant light is by Melbourne designer Ross Gardam.
Future plans.
"We'll build a second dwelling down the back – a space for our parents or our kids – when the trampoline becomes obsolete," says Christine.
The home office doubles as a studio for Bill, a keen musician. The wooden sculpture in the garden came with the house. "We loved it so much we made sure it was kept," says Christine.
Best advice.
"Our mantra is, 'design big rather than build big' – the easier the home, the easier the life."