Going Green: The 7 Best Eco-Friendly Building Materials
Building an eco home makes sense on so many levels – your new abode will boast stunning natural looks, cost less to run, and will be kinder to the environment. Here, an expert outlines the environmental credentials of seven of the most popular eco-friendly building materials in Australia, and how best to use them in the construction of your own home.
Image: Hood House | By Steele Associates
There's a lot to consider when choosing building materials for your home; after all, they'll not only determine the look and feel of your space, but your impact on the environment and even the quality of the indoor air you breathe.
Choosing to go green with eco-friendly building materials will not only have a positive impact on the inhabitants of your home, but your neighbourhood too. Environmentally friendly building materials emit little to no toxins and have fewer harmful chemical environmental pollutants – plus, of course, they're far kinder the earth.
And remember, to be conscious in your eco-building efforts, you need to consider the entire supply chain when assessing a material, including how it has been manufactured, transported, and the way it will be used in the construction of your home.
Image: Suburban Bush House | By Lume Projects
Good Reasons to Go Green
– It allows you to give back to the earth rather than just taking from it.
– Environmentally friendly materials carry fewer health risks to you, your neighbours, any tradespeople you employ, the product manufacturers and future generations, as these products have less harmful VOCs (Volatile Organic Compounds).
– Surrounding yourself with natural materials draws nature into your home and has a wonderful, calming effect.
– Using natural, sustainably farmed timbers is a great way to encapsulate the carbon dioxide that is naturally released from wood; when timber is used in a building, the gases are locked in and no longer emit carbon dioxide.
– It reduces your home's carbon footprint.
– It can add value to your home.
Here are the seven of the main eco materials used in Australia.
1. Rammed Earth
Image: Rammed Earth House | By Robinson Rak Architects
Image: Darryl Freeman House | By Elsa Young
This material is made from gravel, soil and cement. Not only does it look beautiful, it is also fireproof, a great insulator and sound absorber, it does not attract bugs, and it lasts for centuries. On the downside, it can be expensive and doesn't particularly suit wet environments. If you live in a very wet area and want to use rammed earth, you will need to cap it so there are no exposed parts. It can also be difficult to find experienced engineers to make, mould and place rammed earth.
Tip: To create a consistent ambient temperature, storing heat in thermal-mass walls is an effective and green solution. Thermal walls made of rammed earth, concrete blocks or bricks generate passive heating and cooling by harnessing the trajectory and prevalence of sunlight, heat, shade and breezes at different times of the day and year.
2. Timber
Timber gains eco credentials if it's sustainably grown. The main thing to know if you plan to use timber in an environmentally friendly build is that trees absorb carbon dioxide – a greenhouse gas. However, when timber is felled, these gases are naturally encapsulated in the timber and further locked in through the building and sealing process, meaning the timber no longer emits carbon dioxide into the atmosphere – or your home.
This is a massive plus if you've chosen sustainably grown timber, but not so much if you're using timbers that have been cut down from a natural forest where no re-planting occurs.
Tip: Keen to take it one step further? Aim to use recycled timber. Not only is it beautiful, but repurposing timber is kind to the earth.
3. Natural Stone
Image: SM House | By Jacobsen Arquitetura
Image: Hill Top Cottage Limestone Vanity | By Luigi Rosselli Architects
Stone such as limestone is fire-resistant, sound-absorbent and structurally strong. It is suitable for use in homes in any part of Australia and usually outlasts its inhabitants.
Keep in mind that stone is not a renewable resource and, depending on your location, may not be available locally. If it's not available near you, it can lose some of its eco credentials in the transportation process.
4. Green Walls & Roof
Image: Peconic House | By Mapos Architects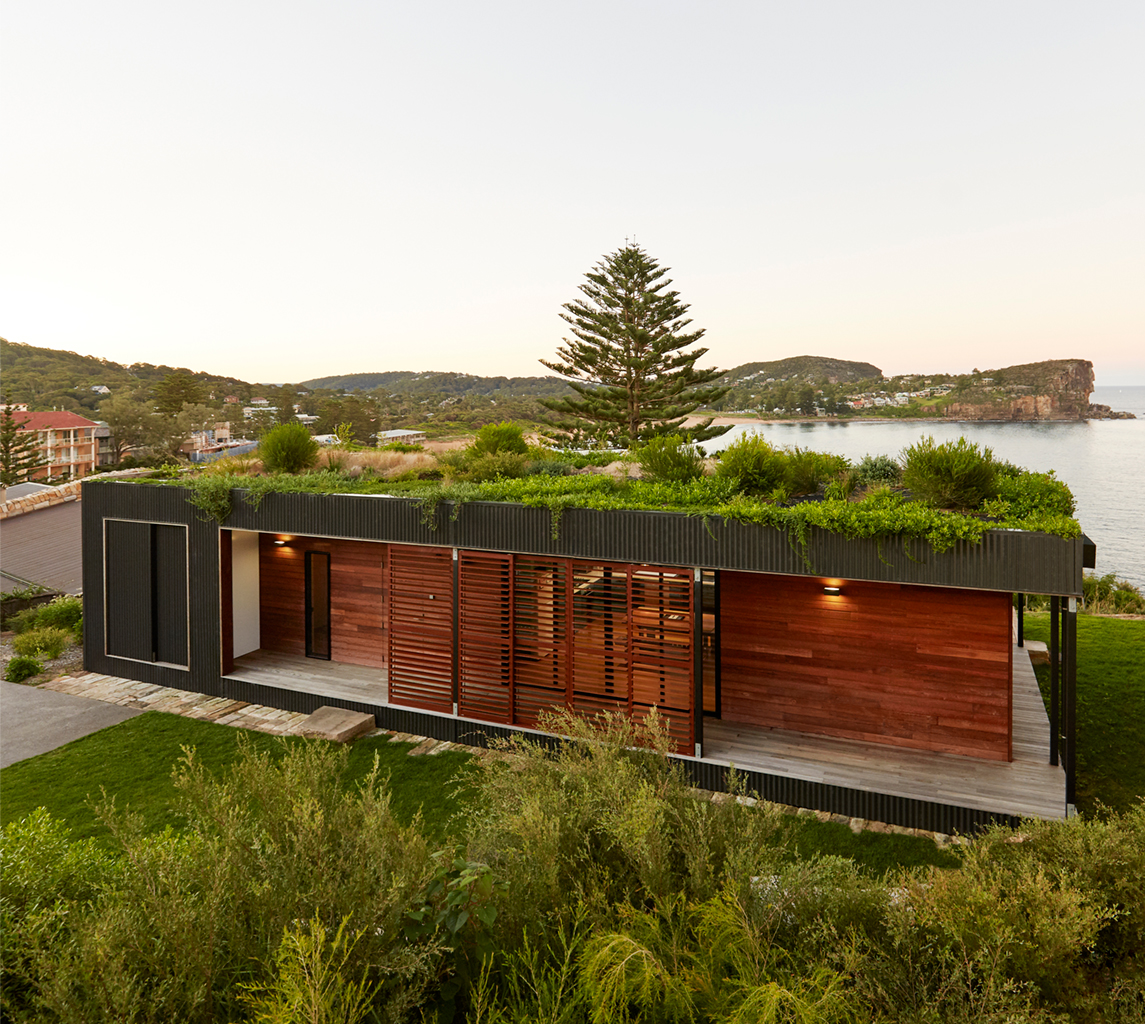 Made from gravel, steel, geo cloth and plants, green walls and roofs are natural, great at insulating (for both heating and cooling) and soften the hard lines of a build. As this is a living building material, it will need water and consistent care, and in some areas, replanting. While green walls and roofs do not cost a huge amount to install, they do require an engineer to complete roofing guidelines. This green option will give your home a unique and natural look.
Tip: To reduce the care required for a green wall, consider setting one up in your bathroom where the plants will harness the natural moisture in the air.
5. Straw Bale
Image: Straw House | By Henry Siegel
Image: Straw Bale House | By Jimmi Pianezzola
Crafted from different types of straw (most commonly rice straw in home builds), this is a completely natural, plentiful and low-cost material to build with – and it looks beautiful. While straw bale is a good insulator and absorbs sound well, it can only be built in dry and rodent-free environments, and requires structural support such as timber or steel.
Straw bale used in builds needs to be sealed with a natural render. This render gives off a soft and organic-looking finish and, when done correctly, makes the home fireproof.
6. Mud Brick
Image: Casa Campestre | By DCPP
Image: Sam Cox Wattleglen House | By Caitlin Mills
Made from earth, water and straw, mud brick is a natural, inexpensive, fire-resistant building material that serves as a good insulator. It's easy to use and makes a great DIY project if you have the time and inclination. Mud brick is suitable for use in all parts of Australia. It is plentiful in supply and has an appealing rustic finish. The only sealing it requires is from moisture.
7. Concrete
Images: Cloister House | By MORQ
This on-trend material is made from a mixture of aggregate or gravel and cement. It is strong, low-maintenance, fire-resistant and looks better with age. It can be used in all parts of the country.
On the downside, concrete is a man-made material and not as eco-friendly as many people think. It takes a long time to cure and reach its optimal hardness and it requires chemical sealing (if left unsealed, concrete stains easily).
Tip: To improve the eco credentials of concrete, use it in conjunction with other environmentally friendly materials in order to lower your home's carbon footprint.
Interesting Material Mixes
Mixing different eco-friendly materials within a build is an approach being utilised nowadays to create looks that are both earthy and contemporary. This mixing of materials not only creates a unique design, but can boost the efficiency of your home.
Glazing
When building with the environment in mind or looking to increase the energy efficiency of your home, upgrading to insulated glass makes a huge difference. Selecting double- or triple-glazed windows and/or thermal-break window and door frames lets you have large-scale glass openings that capture views and light without compromising on a comfortable indoor temperature.
We love sharing all the new and exciting things happening at Archiblox, so make sure you're following us on Instagram, Facebook and
Twitter, or signed up to our monthly newsletter, to ensure you don't miss a thing.